A little glimpse of history.............in the making............

    Collins Racing is a family race team that began in

1989 in the bracket racing ranks moving up every year until reaching the professional ranks in 2000.

    Jack Collins, crew chief and car owner, is a self-employed real estate developer from Tuscaloosa, Alabama.  He has been involved with drag racing for over 31 years.  He began his involvement by being a crewmember on a NHRA Pro Stock team in 1976. 

    Jason Collins began drag racing in 1989 in the local bracket ranks in central Alabama; each year taking on a new class and being successful at each of them. 

                                                 About Our Car.....

Driver

Jason Collins

*Multi-IHRA National Event Winner.

*Hometown: Rainbow City, Alabama.

*Owner/Operator of Alabama International Dragway.

International Hot Rod Association (IHRA)

2002 World Speed Record Holder: 214.42 mph over a quarter mile (from a dead stop through 1320 feet).

The Car

Class: IHRA Pro Stock

Make: 2007 Chevrolet Cobalt

Body: Carbon fiber

Chassis: Chrome-Moly

Weight: 2425 pounds minimum with driver

Wheelbase: 105 inches

Builder: RJ Race Cars, Inc

           Galesburg, IL

Power Train Engine

Make: Chevrolet Hemi

Displacement: 820 cubic inches

Horsepower: Approx 1800hp

Builder: Jon Kaase,

           Winder, Georgia

Fuel: Torco Racing Fuel, 118 NOS,

Car Owners

Jack and Sherry Collins

Jack is also crew chief and head wrench.

Clutch: Ram Automotive, two-disc metallic with bronze floater

Transmission: Lenco—clutchless five-speed with air shifter

Drive shaft: Aluminum

Rear end: Fabricated housing, four-link suspension, 4:10 ratio

Rear tires: Goodyear, 17 inches wide, 34.5 inches tall, 112 inches circumference,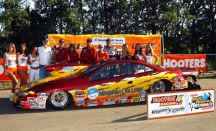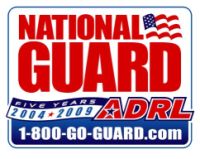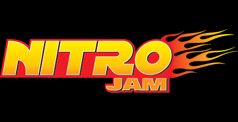 A family tradition........